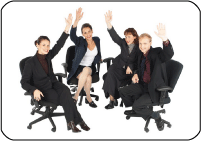 The Management Team
President
Heather Fowler
BA, MA, DAGT
- 2D and 3D Animator and New Media Designer. Enhanced Level Security
heather.fowler@lextech.ca
CEO
Brian McGee
BA, BCs, MCP, MCSD
- Project Manager, Programmer, and Facilitator. Confidential Level Security
brian.mcgee@lextech.ca
All About Us
The management team of LEXtech has years of experience in the IT industry as employees, contractors and business owners. The list of skills and experience include:
24 years - Graphic Design
15 years - Computer Programming
14 years - Database Development
12 years - Presentation Design
12 years - Multi-Media Design
11 years - Teaching / Facilitation
9 years - Web-based Development
8 years - Instructional Design
7 years - Audio Recording/Editing
7 years - Animation

* Experience is based on the longest period of time any one individual in LEXtech has been working within a field. The years of experience form multiple individuals are not added together.

Despite the long list of varied skills, LEXtech has shifted its main focus to four main areas: Presentation expertise, conversion of PowerPoint into web presentations, web-based applications, and data driven applications.
LEXtech specializes in the transformation of traditional multilingual media into electronic and web based deliverables
Do you have facilitated course materials you would like to see web delivered but can not manage the expensive development time? Our unique conversion process can reduce development time yet still deliver a professional product.